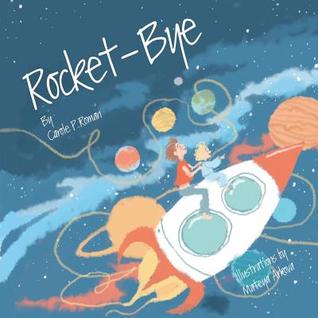 Title: Rocket-Bye
Author: Carole P. Roman
Published: March 113, 2016
Pages: 32
Genre: Children ages 3 on up
Review: Paperback provided by author
Buy Links:
Amazon
,
Amazon.uk
Carole P. Roman travels to the stars, orbiting the moon and rocketing past planets in this adorable journey to the far reaches of the galaxy. A beautiful bedtime poem, this verse is sure to delight any child before they go to sleep.
We received this book to give an honest review.
Both K and A enjoyed the book as they both thought it was cool that there was a rocket ship that was going around the planets. For K he really enjoyed knowing there were different planets and the pictures were well drawn. A on the other hand just thought it was neat that two people were riding on a rocket ship and she wanted to do the same. This book is a good read for bedtime as it gets the kids settled down with a wonderful story and ready to sleep and dream of maybe them being in space among the stars.

Award winning author Carole P. Roman is a former teacher turned businesswoman. She has successfully run a family business with her husband that employs close to five hundred people. Her most favorite job is being grandmother to her many grandchildren. Roman has two wonderful sons and hit the jackpot in the daughter-in-law department. She currently lives on Long Island with her husband.
Her first book, Captain No Beard - An Imaginary Tale of a Pirate's Life has been named to Kirkus Reviews' Best of 2012 as well garnered the star of remarkable merit. It was named in the Pinnacle Award for Best in Children's Fiction 2012. Captain No Beard has developed in a series of 6 more books. She is the author of the best selling book, I Want To Do Yoga Too. Currently, she is working on her educational series that explores different cultures from a child's point of view. If You Were Me and Lived in...Mexico, received the Pinnacle Award for Best in Children's non-fiction 2012. If You Were Me and Lived in...Kenya received 5 Stars from the ForeWord Clarion Review. She just completed Russia with the help of her five year old grandson and loved every minute of it.