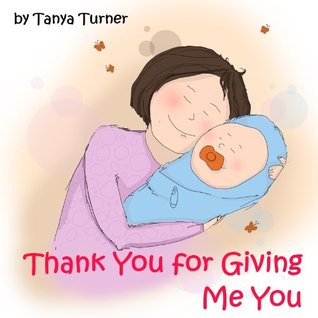 Every child is a great blessing! A baby brings so much joy. The presence of a baby brightens a home and enriches the life of the people who are part of the baby's life.
"Thank You for Giving Me You" is a wonderful poem that expresses thanksgiving for the gift of a baby to a family. The poem describes the parent's happiness over the baby, and the promise of unconditional love for the child.
"Thank You for Giving Me You" is a sweet poem with beautiful illustrations that will melt the heart of its readers.
When I got this book I was thinking it was going to be sweet and thoughtful. It felt more religious to me. Not that I am not a religious person but I think that just maybe this should have been put into the description of the book.
This is a story of a family who is very thankful for a baby coming into their life, I read it to K so he could know that me and his father are thankful for him and his sister being in our life. It does rhyme and it does bring God into it more than I expected. I believe that even though this book is short, that maybe we could have seen the baby grow a bit. By that I mean from infant to toddler to maybe school age?
K felt like this was a baby book, he ended up asking me to read another story to him and not read this one again. I may try to read this to my two year old being as the pictures of babies will draw her in but this may be a book that I personally just put to the side.