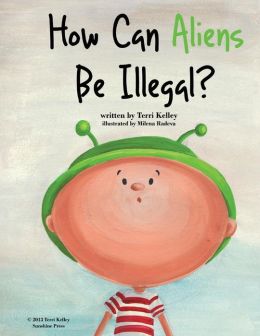 The term "illegal aliens" has been used in our country to describe the people who live here without legal documentation and permission to do so. While adults understand what is meant by the term, children are often confused by it. In this story, readers will follow along with a little boy as he discovers that there is more than one type of alien in this world and the issues associated with immigration are many. This is not a political book nor is it intended to make a statement on one side of the immigration debate or the other. It is simply a story to help children understand what is meant by the term "illegal aliens" and about the people affected by immigration. This book is wonderfully illustrated by the very talented, Milena Radeva, illustrator of the "Writing is a Process" series of books by author Terri Kelley.
We received this book to give an honest review.
So when I got this book I figured it would be a good read for K. Even though he has not heard the term 'illegal aliens' I figured that maybe he would get the concept of what this book was about. For him he didn't truly understand he thought the boy was an alien from outer space.
So this review is just from me.
The concept is good and put in a way that some children would be able to understand. The rhyming is good within the book. The only real problem I truly had was the illustrations. Some of them could have truly been better. Also I am not sure if it was the copy I received or not, but at times the writing was hard to read as it was too small.
I would recommend this book to those that want to explain to the younger children pretty much that people are not really illegal aliens they just come over to America in not the right way. Overall good book, just may need some tweaks on the pictures.