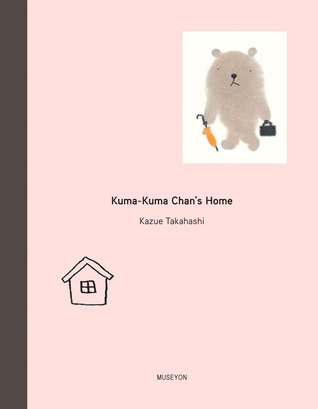 Title: Kuma-Kuma Chan's Home
Author: Kazue Takahashi
Published: April 1, 2016
Publisher: Museyon Inc.
Pages: 52 (hardback)
Genre: ages 2-4
Buy Links:
Amazon
,
Amazon.uk
When a boy receives an invitation in the mail from Kuma-Kuma Chan, a friendly bear who lives far away, he travels by train, bus, and finally on foot to reach Kuma-Kuma Chan's home. Kuma-Kuma Chan welcomes him and serves tea. Even though the two don't have a lot to talk about, just by spending time together, sharing the day's activities they bond and create a friendship and enjoy each other's company. This heartwarming tale once again immerses children of all ages, in Kuma-Kuma Chan's peaceful, simple world.
We received this book via NetGalley to give an honest review.
So I figured A would like this book as she is three. She really as not very interested in it, as it didn't seem to hold her attention she was asking for another book to be read after this one.
This is a very simple book there wasn't much detail with the pictures so I am sure that is why A didn't enjoy it.
You have a young boy who is visiting his bear friend they really don't do much other than eat and watch TV. I think the pictures could have used a bit more brightening up. There is really no dialogue between the two main characters as the little boy just describes what they are doing and what not.
For us this book was just not for us, but it may appeal to others. I say give this book a try and see for yourself if it is up your alley.