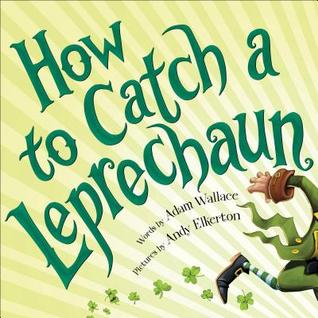 Title: How to Catch a Leprechaun
Author: Adam Wallace
Publisher: Sourcebooks Jabberwocky
Published: Feb. 2, 2016
Pages: 32
Genre: Children ages 3 on up
Review: Paperback from publisher
Buy Links:
Amazon
,
Amazon.uk
You've been planning night and day, and finally you've created the perfect trap! Now all you need to do is wait. Is this the year you'll finally catch the leprechaun? Start a St. Patrick's Day tradition with this fun and lively children's book.
How to catch a leprechaun?
It's tougher than you think!
He'll turn your whole house upside down.
He's quicker than a wink!
We received this book to give an honest review.
LOVE, LOVE,LOVE this story of how to catch a leprechaun.
I read this to both K and A at different times. A being three liked to find the leprechaun that was avoiding being captured and thought the pictures were cool.
K read this book to me and couldn't believe all the traps that the kids were putting in place. He thought it was funny when the leprechaun took care of the smelly shoes. This book is a great story to read whenever but it is perfect for St. Patrick's Day .
The pictures are bright and colorful and I think will keep the children engaged and laughing.
Adam Wallace is an author and cartoonist who loves writing and drawing ... this is lucky ... because he's an author and cartoonist who writes and draws!
Adam's passion is to bring excitement and energy and humour and joy to children (of all ages!) through his books and videos.
He spends his non-writing time thinking about writing and going to as many live music shows as he can. He's also teaching himself piano, and is about to take on the ukulele as well.
Adam's books include inspiring novels (The Pete McGee series), How to Draw books (Rhymes with Art), gross short stories (The Better Out Than In series), and funny, hilarious, crack-you-up books (Jamie Brown is NOT Rich).