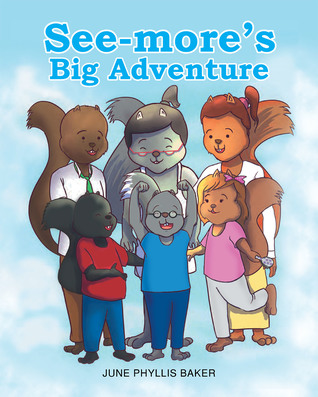 Title: See-More's Big Adventure
Author: June Phyllis Baker
Published: Oct. 27, 2016
Publisher: Fulton Books Inc.
Genre: Children ages 5 on up
Review: ebook provided by author
See-mores Big Adventure, a childrens picture book is about a young squirrel who is experiencing difficulties both in school and at play because he cannot see clearly. When he learns that he must wear glasses, See-more feels afraid of being laughed at and losing friends.
See-more can be a positive role model for children who may feel stigmatized because of their need to wear eyeglasses. The whimsical adventures of See-more makes eyeglasses not only cool, but the whole world opens up to See-more as he discovers all the things he had been missing!
We received this book to give an honest review.
I read this to K as I knew A might not want to listen because it was a big longer than she is use to. See-More is a little squirrel who loves to play but when he is playing with his friends he starts tripping over things though he just thinks he is clumsy. Now when he starts the first day of school that is when the teacher notices that he may need glasses, though See-More is worried that his friends will all laugh. I think as kids we all think this at one time or another I know my two kids do.
Though with the little advice from his mother he learns that having glasses is not so bad.
Cute story with a good message of staying positive and not to feel ashamed if you have to wear glasses.