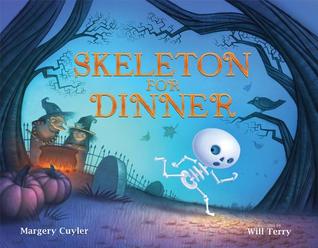 Title:Skeleton For Dinner
Author: Margery Cuyler
Publisher: Sept. 1, 2013
Published: Albert Whitman & Company
Pages: 32
Genre: Children ages 4 on up
Review: paperback from library
Buy Links:
Amazon
,
Amazon.uk
Big Witch and Little Witch have made stew, and now they want to have their friends for dinner! But when Skeleton mistakes the guest list for a menu, he takes off running, and soon Ghost and Ghoul join him too! But poor Little Witch has no idea there's a misunderstanding. Luckily there's one creature in the haunted forest who can help everyone figure it all out.
This spooky and silly read-aloud is just right for Halloween.
So K and his sister really enjoyed this book it was a fun book to read for Halloween. The illustrations were wonderful and so colorful they went very well with the story being told.
Big Witch and Little Witch want to have dinner with their friends but when Skeleton misunderstands what his friends are wanting he runs as fast as his little legs can carry him to warn the others. So it is up to Crow to help make things right and he of course does.
I would love to own this book in paperback as it is a book I know we will be picking up again to read over. This is not scary at all so the younger kids can sit and enjoy it without the feeling of scariness.

Margery Cuyler is the author of many books for children, including From Here to There, The Little Dump Truck, and That's Good! That's Bad! The idea for That's Good! That's Bad! was inspired by a conversation with her son, Thomas, who asked, "Can't bad things change into good things?" Ms. Cuyler grew up in the oldest house in Princeton, NJ, and started writing stories as soon as she learned how to write. She now lives in the same house with her husband, sons and two cats.
http://us.macmillan.com/author/marger...