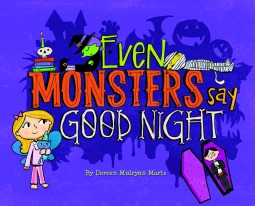 Title: Even Monsters Say Good Night
Author: Doreen Mulryan Marts
Published: August 1, 2015
Publisher: Capstone Young Readers
Pages: 32
Genre: Ages 4 on up
Review: ebook provided by Netgalley and publisher



It's bedtime, and Avery hates bedtime. She is positive that there are monsters under her bed, especially on Halloween. Where else would all of those monsters sleep? After a thorough discussion with her mom about the monster situation, Avery finally goes to her room. Does she dare check under the bed? A mix of story text and speech bubbles blend seamlessly in this humorous bedtime tale that both parents and children will relate to.

We received this book via NetGalley to give an honest review.
Not only is this a good book to read any time it is going to be a good book to read at Halloween time as well. Avery doesn't like bedtime (sounds like my son) so she asks her mom about the different kind of monsters on if they sleep. Which in turn her mom has an answer on each monster that is asked. Ghosts sleep in mansion, vampires during the day and so forth. Really cute and I love how Avery asks questions and her mother would answer, I think that is cute when kids ask things like this that they need an answer to. At the end Avery learns that the monsters are not scary and are not under her bed as they all tell her good night at the end.
The only thing that the author may want to do is reword the part about the vampire. The mom says well vampires sleep during the day and are awake at night then later on she says the vampire is sleeping and it is dark time. I am sure this won't bother most kids but some may catch on that Avery was told two different things.
The pictures are cute and go perfect with the story.