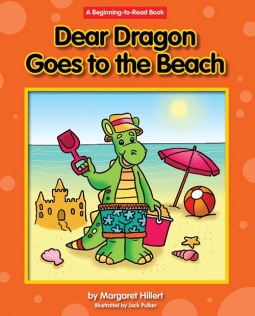 Title: Dear Dragon Goes to the Beach
Author: Margaret Hillert
Published: July 1, 2015
Publisher: Norwood House Press
Genre: Chilldrens
Review: ebook provided by publisher and NetGalley


A boy and his pet dragon take a family trip to the beach. They see sand, seashells, and the water for the first time. This beginning reader contains high-frequency and sight words. Teacher resources include note to caregivers, word list, reading activities to strengthen phonemic awareness, phonics, vocabulary, fluency, and comprehension.
We received this book via NetGalley to give an honest review.
I have read Dear Dragon books before to K and K has also read them to me. They make wonderful beginner reader books as the words are easy to read and there are not a lot of words on each page. With this story we go on a trip to a beach and we get to see what the beach looks like and how is is a good thing to clean it up when it becomes messy. This is very good for children in kindergarten to start reading and I think not only will younger children like it because of the colorful pictures but older children will as well because they can read this to themselves. I read it to both K and A and they both loved it and have asked me to buy the book.