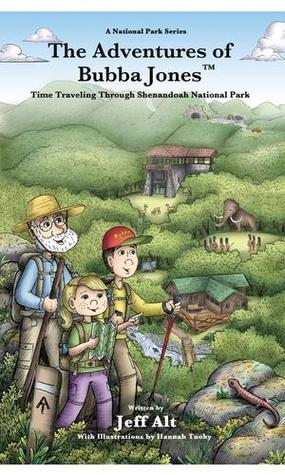 Title: The Adventures of Bubba Jones #2
Author: Jeff Alt
Illustrator: Hannah Tuohy
Pages: 189
Genre: Middle Grade
Publisher: Beaufort Books
Published: Aug. 25, 2016
Review: Paperback received by author
After Inheriting legendary time travel skills from their Papa Lewis, Tommy "Bubba Jones," and his sister Jenny "Hug-a-Bug," embark on a Shenandoah National Park adventure to solve a family mystery.From the moment they reach the park entrance, the excitement begins.As they follow the clues, they travel back in time hundreds, thousands, and millions of years and come face to face with extinct creatures, endangered species, the areas first inhabitants, past presidents, former park residents, and some of the park founders.They travel deep down into mountain hollows, high up onto Talus mountain slopes, and discover more about the Shenandoah than they ever imagined.Explore the Shenandoah with Bubba Jones and family in a whole new way."
I received this book to give an honest review.
So this book was a very long book for us and I think it was because of the very long chapters.
The book was full of adventure and K thought it was really neat how they went back in time to meet others and had a mystery to solve. We both had fun trying to cipher the code though we really had no clue what we were doing.
Another great thing about this book is the fact it is very family oriented everything is done with family and I think that is an amazing part to have in a book that you read to a child, even when they are older.
I do love how educational this book was and it had K asking a lot of questions about history which was a great thing.
I never heard of Shenandoah National Park and when I looked it up I was amazed at how it was a real National Park. That is something I never remember learning in school just by reading this book as a parent I felt as though I learned a bit.
This is a great book for about 10 and up as it is filled with plenty of adventure and history!
Bio: Alt has been presenting his Appalachian Trail show to Shenandoah National Park visitors for over six years as well as other parks and groups. Alts hike was dedicated to his brother who has cerebral palsy. This adventure inspired an annual fundraiser which has raised over $100,000 for the disabled home in which his brother resides. Alt has been featured regularly over the past few years on radio and TV (including the Hallmark Channel, ESPNs Inside Americas National Parks, CNN-Radio, USA Radio Network, New Dimensions World Public Radio) as well as in web and print media (including AP, Outdoor Times, Chicago Sun Times and adventurejourney. net.). The first edition of the award-winning A Walk For Sunshine has been highly praised and has sold more than 15,000 copies. Alt continues to present Appalachian Trail shows in the Shenandoah National Park and around the country. Alts other book, A Hike For Mike (John Muir Trail), is a 2005 Forward Magazine finalist and a USA book News award finalist. For more information see:

http://jeffalt.com/media.asp