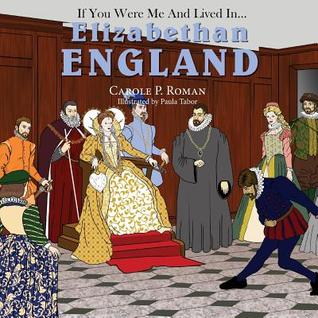 Title: If You Were Me and Lived In Elizabethan Englad
Author: Carole P. Roman
Illustrator: Paula Tabor
Published: March 21, 2016
Pages: 54
Genre: Children ages 8 on up
Review: Paperback provided by author
Buy Links:
Amazon
,
Amazon.uk
Join Carole P. Roman and travel through time to visit the most interesting civilizations throughout history in the first four books of her new series. Learn what kind of food you might eat in Ancient Greece, the clothes you wore in 15th century Renaissance Italy, what your name could be in Elizabethan England, and what Colonial American children did for fun. If You Were Me and Lived in...does for history what her other award-winning series did for culture. So get on-board this time-travel machine and discover the world through the eyes of a young person just like you.
We received this book to give an honest review.
I think K was really impressed with this book as he was very interested in the pictures and what the people were eating. He found it very cool that no one drank water because he doesn't like to drink water. Which I had to explain that sometimes there were nasty things in the water that could make people sick as we discussed how people threw out their waste and what not just into the streets.
After reading the book and learning different things especially what people wore he believes he would not like to live back then as it doesn't seem fun and it seems hot.
We even get to learn about different jobs and how much you could earn with those jobs.
I have to say I really like learning a lot of interesting things with this book as I felt I learned and I am sure K learned something new.
Award winning author Carole P. Roman is a former teacher turned businesswoman. She has successfully run a family business with her husband that employs close to five hundred people. Her most favorite job is being grandmother to her many grandchildren. Roman has two wonderful sons and hit the jackpot in the daughter-in-law department. She currently lives on Long Island with her husband.
Her first book, Captain No Beard - An Imaginary Tale of a Pirate's Life has been named to Kirkus Reviews' Best of 2012 as well garnered the star of remarkable merit. It was named in the Pinnacle Award for Best in Children's Fiction 2012. Captain No Beard has developed in a series of 6 more books. She is the author of the best selling book, I Want To Do Yoga Too. Currently, she is working on her educational series that explores different cultures from a child's point of view. If You Were Me and Lived in...Mexico, received the Pinnacle Award for Best in Children's non-fiction 2012. If You Were Me and Lived in...Kenya received 5 Stars from the ForeWord Clarion Review. She just completed Russia with the help of her five year old grandson and loved every minute of it.